Discover design trends to look out for at AGHA Melbourne Gift Fair.
According to Darren Palmer, Moroccan and botanical looks will work beautifully in Australian homes.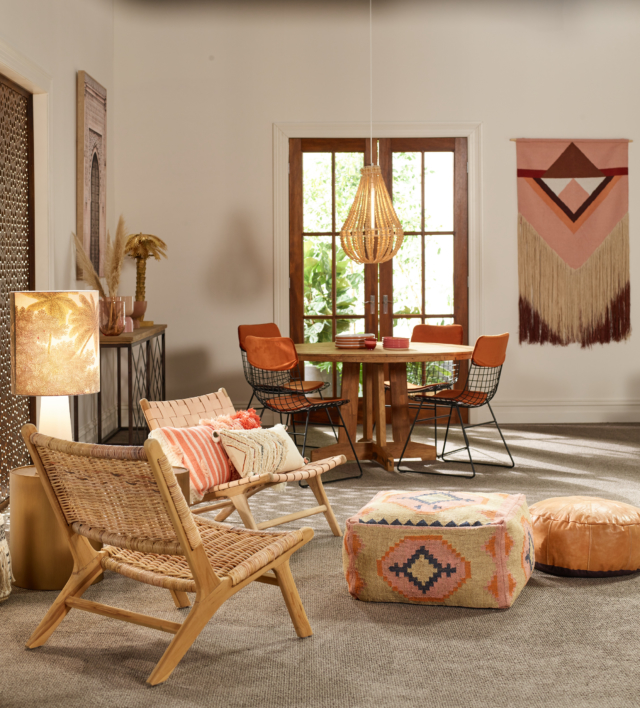 "The Moroccan look is exotic and luxurious," he says.
"Think bold brights, clashing patterns and earthy, rugged textures. With its bohemian edge, this look brings a sense of energy yet warmth to a space.
When you're decorating a room, it's always a good idea to start with the floor. It's one of the largest expanses of space in a home and will set the tone for the rest of your furnishings.
"The Moroccan look has warm, spicy undertones and an earthy feel, so seek out flooring in a warm neutral shade with plenty of texture. Timber flooring works equally well in a Moroccan scheme―extra-wide boards are trending right now and will add a contemporary touch to your exotic scheme."
"Complete the look with a medley of bright, patterned rugs and cushions, buffed leather accessories, decorative pendants and woven wall hangings," he says.
The botanical trend works well with Australian homes with our love for the indoor-outdoor concept. It is all about bringing nature inside creating a fresh, relaxed look.
"The key to making this look work is not to overfill the space―you want it to feel light and airy," says Palmer.
"Choose one or two statement features, such as an oversized leaf-print wallpaper across one wall or a forestgreen velvet sofa. Then, add in shelves and accessories in woven rattan and blonde timber, white plantation shutters and plenty of greenery. Finish off with touches of gold for a modern-luxe feel."